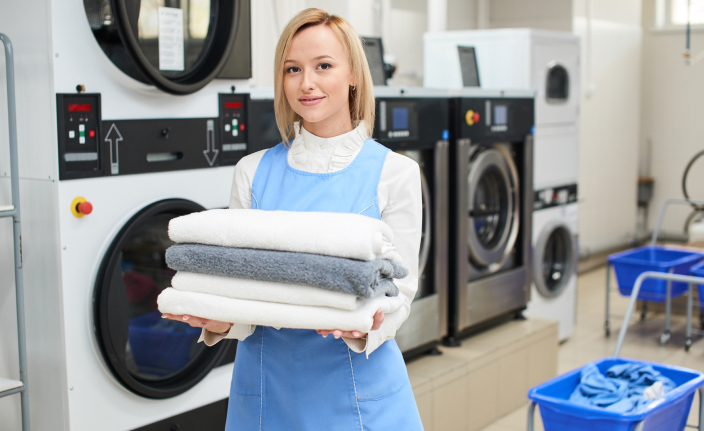 Welcome
Serving Indivduals and Companies with Laundry, Dry Cleaning and Ironing
Mainwise Ltd is a family run business with a range of launderettes and dry cleaning facilities across Nottingham.
Established in 1987, Mainwise has grown from a humble beginning starting out with just one launderette on Highbury Vale. The business was successful and steadily grew into what you see today.
Our Launderettes
Find your nearest launderette. Click for locations and contact details
It's Brilliant, Gordon Road

Went yesterday to wash a bedspread. Noted how spotlessly clean the laundrette was. Having no idea what to do the lady behind the counter came out to show me what to do even though she was clearly very busy. At the end of the wash cycle she even came out to help me fold the bedspread so it was not falling on the floor. Excellent service and would certainly come back again.
It's Brilliant, Gordon Road

It really is brilliant. Went to wash our curtains which don't fit in my washing machine. Lovely ladies explained to me how everything works. The washing machines are clean, everything is tidy. Clean waiting area with chairs. Will come back to wash our duvets.
It's Brilliant, Gordon Road

Sad, but I find a laundrymat the most peaceful place to just chill out. Bring your dirtiest and a good book. The ladies who work here are very helpful and polite.
All the machines are well kept, some are new, and not too costly.
It's Brilliant, Gordon Road

Reliable & delivered what was promised within 24 hours. I travel from London & stay in Nottingham regularly so It's nice to find a reliable service when hotels pick their laundry prices from thin air.

Every wash is by weight as opposed to per item. Shirts and suits can be ironed and pressed for an simple & transparent additional cost. Highly recommended!
It's Brilliant, Gordon Road

Great job, suit jacket no complaints looks good
thanks
It's Brilliant, Gordon Road

Staff extremely helpful, loads of machines and driers. It's clean and bright, and open late. As it says - it's brilliant.
It's Brilliant, Gordon Road

Great service, the staff bring the brilliant - we get home delivery and they are reliable and good value.
It's Brilliant, Gordon Road

Used as both a launderette and service wash -reasonable price and excellent service
Mainwise Launderette, Loughborough Road

Often drop our ironing here - always done to a high standard. Would recommend to anyone who can afford it; saves us a lot of time!
Mainwise Launderette, Loughborough Road

Fantastic the staff were brilliant and friendly. My machine broken, so got me out a hole. Thanks Mainwise
Mainwise Launderette, Loughborough Road

Smashing launderette. Have been using it for years. The owner is lovely, as are the staff. Very friendly and very helpful. The place is kept spotless and the opening times are excellent. Recommend all the way !!
Mainwise Launderette, Loughborough Road

I have used this launderette for many years and think that the gentleman who owns it and another one is a very pleasant person.The staff have always been very friendly and helpful and they make u very happy to be there.The establishment is always very clean and obviously the cleaner is very happy in their work brilliant.I would recommend.end it to everyone.
Mainwise Launderette, Loughborough Road

Clean and friendly. Nice supportive staff...excellent community amenity.
Mainwise Launderette, Loughborough Road

Such lovely staff, clean and good dryers. Thank you.
Mainwise Launderette, Mansfield Road

My preferred laundrette in Nottingham. Good washers and dryers but only two are bigger ones. Coin machine available inside and plenty of parking outside.
Mainwise Launderette, Mansfield Road

Absolutely lovely lady. Gave me free washing powder and colour run sheets as I was wanting a service wash for an elderly lady I care for and it wasn't going to be cost effective so helped me out. Can't do enough for you. Will use again.
Mainwise Launderette, Mansfield Road

The place was nice and clean and the machines in good working order. The staff were helpful and friendly and they provided cashback so that I could get change from the machine for the washer and dryer.

My only ever experience of using a launderette and I would certainly come back here again if I need to.
Mainwise Launderette, Mansfield Road

The place and the machines are kept exceptionally clean. Never got any of that grey gunge on my clothes that was left after using the machines at other launderettes. Long opening hours are very convenient, as is the on-site change machine.
Mainwise Launderette, Mansfield Road

Hello,
I just wanted to say that I love using the Mainwise Laundrette - Carrington. The staff are friendly. They keep the washing machines and dryers nice and clean. It's a joy to dry our clothes there! You have done a fantastic job with the flooring, decorating and I love the lights! I have tried to use somewhere else, but have never used the facilities. They are nothing compared to Mainwise! It looks great, smells great and is an extension to t our home!
Ruddington Launderette

Lovely laundrette, nice new clean machines that run proper long cycles. Change machine on site aswell!
Ruddington Launderette

Plenty of machines. Great opening times and there's even a change machine everything can be done through self service.
Ruddington Launderette

My first visit this week. Hadn't got a clue what to do.. The ladies were extremely helpful. Guided me through the washing and drying.. Thank them so much !
Ruddington Launderette

Clean and friendly place, always great service and reliable!
Ruddington Launderette

Discovered this place had recently opened in Ruddington and took some shirts for a service wash and iron. Fast and cost-effective service, shirts were presented perfectly and bagged to keep them clean. Friendly service. Will be using them again soon
Ruddington Launderette

Very friendly and helpful staff. Very clean machines and the whole place is well kept. I use the service wash sometimes and it's a very quick turnaround.